Have you ever tried riding a hoverboard? These self-balancing scooters are straight from the future, making it easier and fun to travel smaller distances. If you're looking to buy Hoverboards in the UK, there are a few things you should keep in mind to ensure you get a quality product that's safe and fun to ride.
Safety
Safety features are the first thing you should look for when buying a hoverboard. This includes UL certification, which means the hoverboard has been independently tested and meets strict safety standards. Look for a board with UL2272 certification covering the battery and charging system. Moreover, it's also important to check the weight limit of the hoverboard and ensure it can support your weight.
Look for a reputable seller with good reviews. You want to make sure you're buying from a company like SegboTM that stands behind its products and provides good customer service. Check for reviews on the company's website and third-party review sites.
Moreover, with reputable companies, it is easier to claim a warranty if your board is damaged and you need to repair it.
Hoverboards can range in price, and you don't necessarily need to buy the most expensive one to get a quality product. However, be wary of hoverboards that are significantly cheaper than others on the market, as they may be lower quality or even counterfeit.
Set a budget first to know how much are you willing to spend on the board which makes it easier to find one within your range by narrowing down the option.
Consider what features are important to you. Do you want a hoverboard with Bluetooth speakers or LED lights? What about off-road capabilities? Think about how you'll use the hoverboard and what features will enhance your experience.
Check the warranty offered by the manufacturer or seller. A good warranty can give you peace of mind and protect your investment.
Where Can You Find Hoverboards in the UK?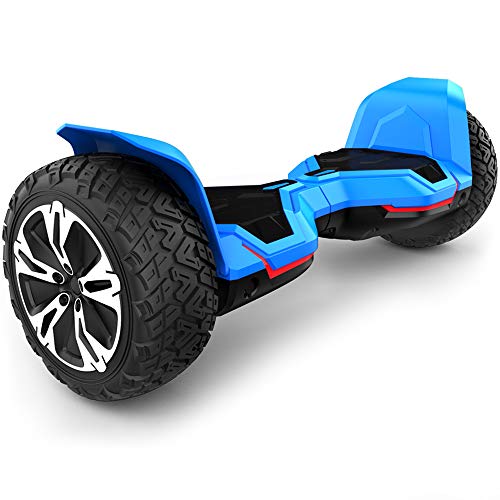 There are many places where you can find hoverboards in the UK. Here are some options:
Online retailers: Many online retailers sell hoverboards, a popular option for many shoppers. Some popular online retailers in the UK include Amazon, Argos, Very, and Hoverboard Store.
High-street retailers: Some high-street retailers, such as Halfords, sell hoverboards in-store. This can be a good option if you want to see the hoverboard in person before making a purchase.
Specialty stores: Some specialty stores sell hoverboards and other personal transportation devices. These stores may have a wider selection of models and accessories.
Secondhand marketplaces: You can sometimes find used hoverboards for sale on websites such as eBay or Facebook Marketplace. However, carefully inspect the hoverboard and check that it is in good working order before making a purchase.
Consider factors such as safety, reputation, price, features, and warranty when purchasing a hoverboard. Look for a UL-certified hoverboard with a weight limit to support your weight.
It's also important to remember that hoverboards are considered motorized vehicles and may be subject to local laws and regulations, so check with your local authorities to determine where and how you can ride your hoverboard.
SegboTM is UK's top segway dealer, and when it comes o quality and pricing, they excel in both. They offer a huge variety of self-balancing boards and related accessories available at a good price so everyone can afford to buy them.
So, if you still need to get one for yourself, get in touch with them to find the best one.