With an attractive design and top-notch performance, the Samsung Galaxy S21 is a mid-range device that has shown great potential. It has a 6.2-inch HD display that delivers image clarity and quality. The phone is a combination of a Snapdragon 888 processor, 8GB RAM, and 128/256GB internal storage. For capturing pictures and recording videos, it has been equipped with a 64MP rear camera and a 10MP front camera. The device is powered by a 4000 mAh battery that delivers 6 hours of battery time. All in all, the Samsung Galaxy S21 is a breathtaking device that focuses on performance. Let's get to know more about the device!
General Specs
Operating System: Android 11, One UI 3.1
Processor: Octa-core (1×2.9 GHz Cortex-X1 & 3×2.80 GHz Cortex-A78 & 4×2.2 GHz Cortex-A55) – International or Octa-core (1×2.84 GHz Cortex-X1 & 3×2.42 GHz Cortex-A78 & 4×1.80 GHz Cortex-A55
Chipset: Exynos 2100 (5 nm) – International or Qualcomm SM8350 Snapdragon 888 5G (5 nm)
RAM: 8GB
GPU: Mali-G78 MP14 – International or Adreno 660
Internal Storage: 128GB or 256GB
Rear Camera: 64 MP
Front Camera: 10MP
Battery: 4000 mAh
Overview of the design
The Samsung Galaxy S21 has an elegant and beautiful design. Its aluminum frame is super smooth and flows right into the back camera setup. This time Samsung has integrated a protruding design for the back camera setup which looks decent yet attractive at the same time. Although, the overall body of the phone is made of matte-type plastic material it still gives off a comfortable feel in the hand. It comes with a pre-installed front screen protector which is pretty nice.
Comparison with other flagship devices
In terms of other flagship phones, Samsung is a top-tier brand that has always delivered quality and performance to its users. For the Samsung Galaxy S21, it is the same case. The device outperforms most of the flagship phones that exist on the same budget. To top it off, the Galaxy S21 integrates some of the most amazing features that level up your usage.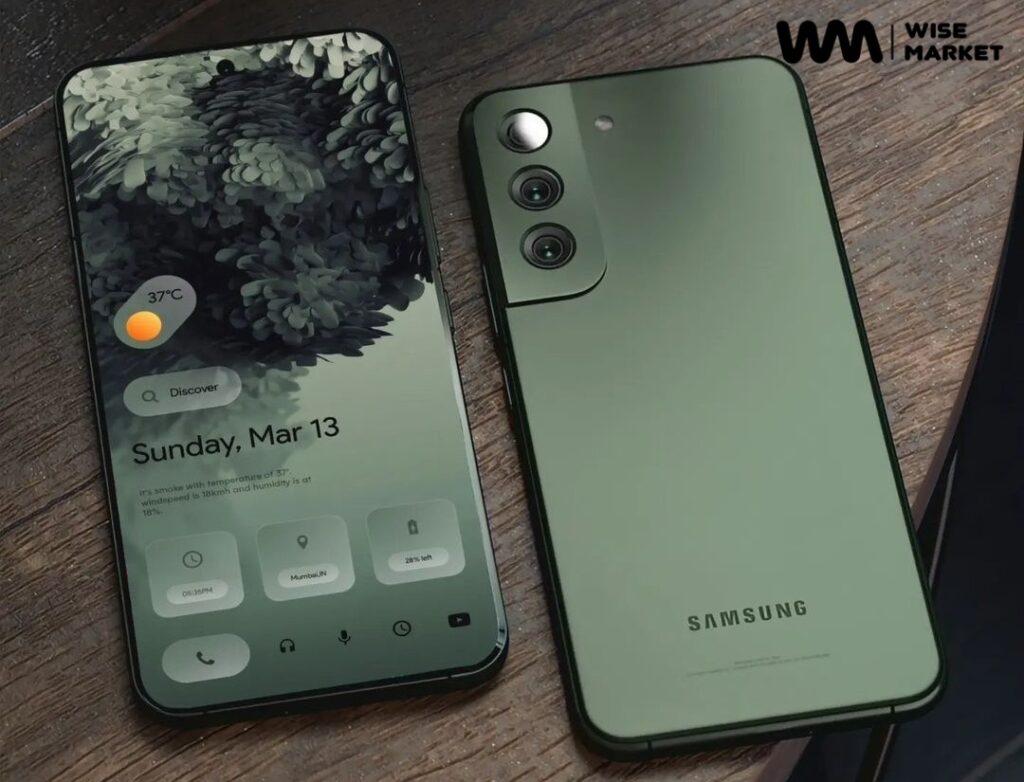 Pros of Samsung Galaxy S21
Here are some of the Pros and Cons of the device!
Affordable as a Flagship phone.
Powerful and high-end phone with an excellent processor and chipset choice.
It has a versatile camera that can fulfill the majority of your needs.
High-capacity battery lasts long.
Stylus compatible, giving you an edge while multitasking and interacting with the phone.
Cons of Samsung Galaxy S21
Listed below are some of the cons of the device!
Internal memory cannot be expanded.
The plastic body may not be appreciated by everyone.
Camera performance review
With a 64MP main camera, the possibilities for your image capturing are endless. Pictures taken during daylight have excellent clarity and a high level of detail. Landscape scenes would be recommended to be taken in the 64MP mode for better quality. The main camera uses a 1/1.76″ sensor with 1.8µm individual pixels. The front camera is 12MP and enables you to take pictures with stunning results with a 1/2.55″, with a 1.4µm pixels sensor.
Battery life and charging options
The 4000 mAh battery empowers you to use your device easily while multitasking. While most Samsung phones may be known for a smaller battery capacity but the Samsung Galaxy S21 is a device that has outdone most of those devices. Its efficiency while gaming, video streaming, and video playback are commendable. Overall, the battery result is decent and offers efficient usage time. If you pair it with a fast charger then it will prove to be more efficient in terms of charging.
Price and availability
The price of the Samsung Galaxy S21 starts from $559 in Australia and it can range Up To $1000-1200. It all depends on the condition, new, used, and refurbished. It has amazing features thus making it a high-demand phone thus being available easily in the local market and manufacturer. Rest at ease, you can easily get your hands on the phone!
Tips and tricks for using the Samsung Galaxy S21
Here are some amazing tips that will help you use your device better!
Use the "Call and Text on Other Devices" feature to access your calls and texts from other devices with ease.
If you get confused to find the on-screen fingerprint scanner then enable the "Scanner location" from the settings.
Use the night mode while taking pictures in low-light conditions or during nighttime.
For moving objects, you should turn on the tracking "auto-focus" feature for amazing pictures.
To power off the phone easily, enable the side power features from the advanced features.
Ever happened that your Samsung buds had no power? Use wireless power sharing to charge them. Enable it from the battery ad device care option and then go to the battery option.
Want to enhance the screen quality? Go to the display option then go to the "motion smoothness" and then enable the adaptive option.
Wise Market Australia is the place if you are looking for an amazing Samsung deal! We have the best collection of Samsung phones at the most affordable price. New, used, and refurbished devices are available with a 13-month warranty, free delivery, and a 21-day money-back policy. Our devices are 100% functional, network unlocked, and supplied through trusted vendors.
Conclusion
Samsung has leveled upped its game when it comes to flagship phones and even non-flagship phones. The Samsung Galaxy S21 offers features that most high-end phones offer at an affordable price. Larger screen, an amazing camera, an ample amount of RAM, and above all, an awesome Snapdragon chipset to integrate everything efficiently.